ZSPH Steel Hand Pump
Steel Hand Pump
Internal pressure relief valve for overload protection.

Large oil capacity, suitable for wide application.

Two speed auto-switch reduces manpower and increase efficiency.


Non-conductive fiberglass handle for operator safety.
ZSPH-400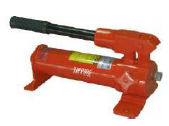 ZSPH-900

ZSPH-1200

ZSPH-3000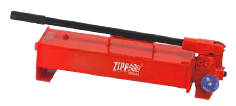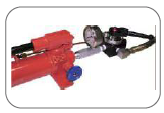 Optional Features
To add optional features to your pump, add the follow suffixes to the end of the model number.
4 ways control Valve: Model D
Example:
ZSPH-2000 with 4 ways control valve, order: ZSPH-2000D.
Technical specifications for these features are available from ZIPP.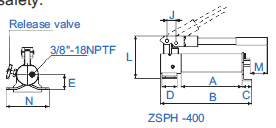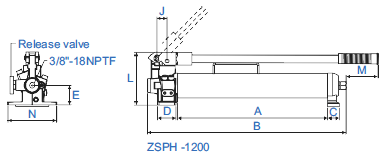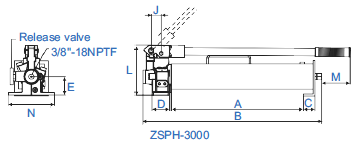 Model




Number

Pump




Type

Usable Oil




Capacity

Pressure Rating

Oil Displacement




per Stroke

Piston




Stroke

1st stage

2nd stage

1st stage

2nd stage

cm³

bar

cm³

mm

ZSPH-400

S/S

400

–

700

–

1.25

22

ZSPH-900

Two-Speed


900

14

700

12.5

2.8

21

ZSPH-1200

1200

14

700

12.5

2.8

19

ZSPH-2000

2200

14

700

14.5

2.8

21

ZSPH-3000

3000

14

700

14.5

2.8

21
Model




Number

Dimensions (mm)

Weight




include oil

A

B

C

D

E

J

L

M

N

kg

ZSPH-400

190

292

34

50

50

31

139

57

140

5

ZSPH-900

395

514

34

45

55

31

150

67

136

7.5

ZSPH-1200

425

536

32.5

48

55

29

150

65

137

9

ZSPH-2000

425

536

32.5

45

55

29

150

60

136

10.5

ZSPH-3000

425

562

45

48

55

29

150

65

137

13.6