ZIW1015CTL 1/2 inch Composite Torque Limited Impact Wrench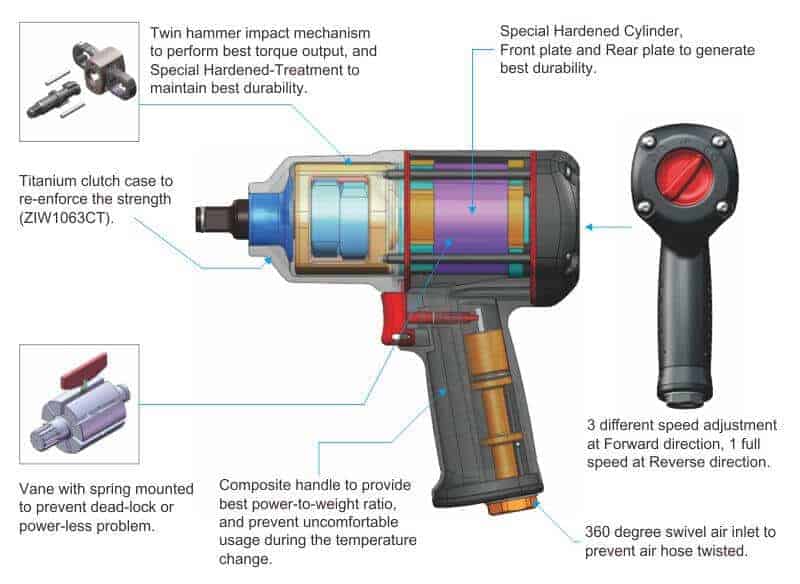 Twin hammer impact mechanism to perform best torque output, and Special Hardened-Treatment to maintain best durability.

Titanium clutch case to re-enforce the strength (ZIW1063CT).

Vane with spring mounted to prevent dead-lock or power-less problem.

Special Hardened Cylinder, Front plate and Rear plate to generate best durability.

3 different speed adjustment at Forward direction, 1 full speed at Reverse direction.

Composite handle to provide best power-to-weight ratio, and prevent uncomfortable usage during the temperature change.

360 degree swivel air inlet to prevent air hose twisted.

OPT. Pin Type Anvil

Specification:
Square Drive: 1/2(12.7) inch(mm)

Free Speed: 8500 rpm

Max. Torque(15 secs): 820(1111) ft-lb(Nm)

Working torque (5 secs): 55~66(75~90) ft-lb(Nm)

Avg. Air Cons: 5.5(158) cfm(l/min)

Net Weight: 4.6(2.1) lbs(kgs)

Impact mechanism: Twin Hammer